Sir Joseph Flavelle and the Flavelle Family Foundation
Born in 1858, Joseph Wesley Flavelle was raised in a family that emigrated from Ireland during the potato famine of the 1850's and continued to experience economic hardship in Canada. His father suffered from alcoholism and his mother, formerly a teacher, was key in the family surviving in their new country.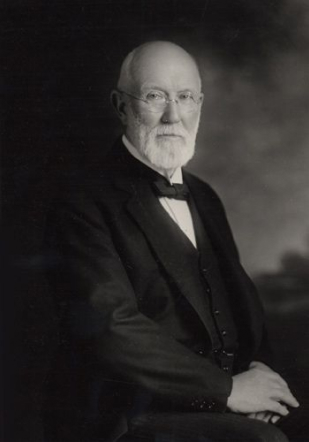 Although dropping out of school at a young age, Flavelle proved to have remarkable business skills and, at the age of 18, he became a business partner selling farm products. By 1887, Flavelle left his hometown of Peterborough, Ontario, with his wife Clara Ellsworth, and moved to Toronto where he was invited to become general manager and part owner of the William Davies Company. His success at Canada's original meat packaging firm lead him to become a prominent figure in finance and commerce as chairman of the Bank of Commerce, the National Trust Company and Simpson's Ltd.
During World War I, the British Government appointed Flavelle as the volunteer chairman of the Imperial Munitions Board. In this role, he was successfully able to correct previous mismanagement of the production of ammunition being sent overseas from Canada to be used in infantry weapons. Although afterwards accused in public of war profiteering, this statement was later proven false. In 1917 Flavelle's service in the war was rewarded by the King of England with a baronetcy. Sir Joseph Flavelle was the last resident citizen of Canada to receive this hereditary title.
Sir Joseph Flavelle devoted much of his wealth and energy to charities, needy individuals and public service. He played an instrumental role in the affairs of the University of Toronto, the Methodist Church, the Toronto General Hospital and the Canadian National Railroad. Behind his interests, he often quoted the words below from a poem by Adam Lindsay Gordon. This became a family motto that is still found where he had it engraved on the mantelpiece in Flavelle House, his home in Queen's Park Circle that in his will, he donated to the University of Toronto. Sir Joseph died in 1939 at the age of 82.
…Two things stand like stone: kindness in another's trouble, courage in your own.
The establishment of a private family foundation was completed in 1945 as directed in the will of Sir Joseph Flavelle. Since its beginnings, the Sir Joseph Flavelle Foundation has been managed by his family descendants, led by an executive committee elected annually as volunteer directors. In 2017, the family voted to change its name to Flavelle Family Foundation to reflect the work, contributions and efforts since its beginnings by four generations of Sir Joseph's family to date.